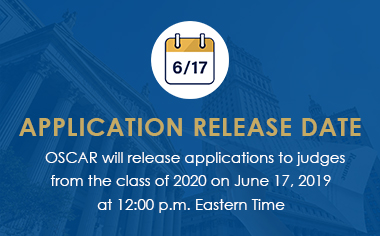 The Administrative Office of the United States Courts announces the Online System for Clerkship Application and Review (OSCAR) will release law clerk applications from the law school class of 2020 on Monday, June 17, 2019 at 12:00 pm (Eastern Time). This release time complements the pilot Federal Law Clerk Hiring Plan. Note: This release time does not affect staff attorney applications.
Learn more about the OSCAR access dates here.
If you have any questions, please contact the OSCAR Program Office at oscar-support@ao.uscourts.gov or 1-866-666-2120 (toll-free).